European IX Access
LU-CIX: Central European Peering Hub
Thanks to its central position in the heart of Europe, LU-CIX benefits from easy accessiblility, attractive distances and fast round-trip times to all major European Internet Exchanges (IX) locations, such as Amsterdam, Frankfurt, London or Paris.
As a central European peering hub, LU-CIX enables its members (the relevant backbone given) to act as carriers (becoming "carrying members") by offering remote peering solutions toward European or global IX (e.g. AMS-IX, DE-CIX, France IX or LINX – nonexhaustive list) through the LU-CIX infrastructure to all LU-CIX connected members. This way the local connectivity is provided through the LU-CIX infrastructure and the remote connectivity relies on the so called "carrying members" international infrastructure.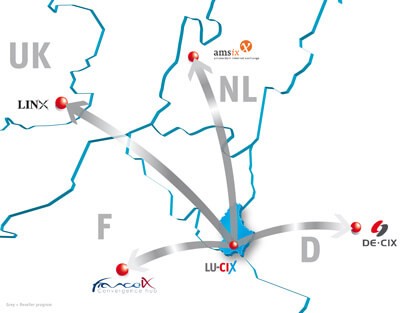 For LU-CIX connected members
LU-CIX connected members wanting to peer on remote Internet Exchanges through LU-CIX as a central European peering hub are invited to contact the "carrying member/s" below.
No additional LU-CIX fee applies to make use of the service provided by the "carrying members", resellers of the remote peering solution.
Carrying members
About IX Reach
IX Reach is the number one partner to leading Internet Exchange Points and a global wholesale provider of carrier connectivity services, such as direct and remote peering, low latency global high-speed point-to-point and multipoint capacity, Ethernet and DWDM metro in major cities, enterprise business IP, BGP transit, cloud connectivity and colocation.
IX Reach offers a cost-effective portfolio of tailored network services, enabling carriers, ISPs, content and service providers of all sizes to quickly and easily increase their network footprint without the need to invest heavily in their own infrastructure or increase resources.
IX Reach is part of Console (formerly IIX Inc.), the global software interconnection company, headquartered in Silicon Valley, California. Console is a trademark of Console Connect Inc. All other trademarks are the property of their respective owners.
Discover new markets and endless possibilities with IX Reach. For more information, visit www.ixreach.com.
Contact for more information: enquiries[at]ixreach[dot]com or call +44 (0)845 013 0845
For any question, please contact the carrying member(s) directly or info[at]lu-cix[dot]lu.
For "carrying member/s"
The remote peering service agreement allows the LU-CIX members who become "carrying members" to one or more remote Internet Exchanges to offer this service through the LU-CIX infrastructure.
Download the remote peering service agreement between LU-CIX and its "carrying member/s" below.

Remote Peering Service Agreement
You are an international carrier? You are interested in connecting LU-CIX members to other international exchanges?
Contact us at info[at]lu-cix[dot]lu