European IX Access
LU-CIX: Central European Peering Hub
Thanks to its central position in the heart of Europe, LU-CIX benefits from easy accessiblility, attractive distances and fast round-trip times to all major European Internet Exchanges (IX) locations, such as Amsterdam, Frankfurt, London or Paris.
As a central European peering hub, LU-CIX enables its members (the relevant backbone given) to act as carriers (becoming "carrying members") by offering remote peering solutions toward European or global IX (e.g. AMS-IX, DE-CIX, France IX or LINX – nonexhaustive list) through the LU-CIX infrastructure to all LU-CIX connected members. This way the local connectivity is provided through the LU-CIX infrastructure and the remote connectivity relies on the so called "carrying members" international infrastructure.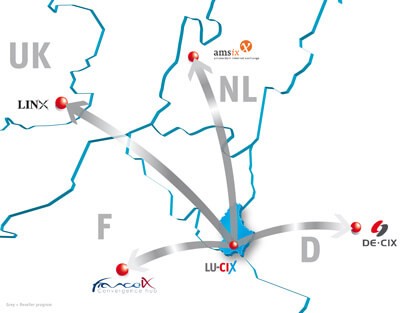 For LU-CIX connected members
LU-CIX connected members wanting to peer on remote Internet Exchanges through LU-CIX as a central European peering hub are invited to contact the "carrying member/s" below.
No additional LU-CIX fee applies to make use of the service provided by the "carrying members", resellers of the remote peering solution.
Carrying members
LuxNetwork
LuxNetwork is a telecom operator. Supported by Datacenter Luxembourg, which entered the capital in October 2019, we emerge as a major player in the cloud and telecommunications sector in Luxembourg. LuxNetwork delivers connectivity solutions and network infrastructure services to support the business challenges of our customers.
We provide local access in Luxembourg based on DWDM, MPLS and fixed or 4G based Internet access using state of the art devices and technologies.
We offer scalable and flexible services that enable the optimization of high-quality, low latency bandwidth up to 100 Gbps.
We connect you from Luxembourg to major European cities.
Learn more about all our services : www.luxnetwork.eu.
Contact for more information: welcome[at]luxnetwork[dot]eu or call +352 28 10 20.
For "carrying member/s"
The remote peering service agreement allows the LU-CIX members who become "carrying members" to one or more remote Internet Exchanges to offer this service through the LU-CIX infrastructure.
Download the remote peering service agreement between LU-CIX and its "carrying member/s" below.

Remote Peering Service Agreement
You are an international carrier? You are interested in connecting LU-CIX members to other international exchanges?
Contact us at info[at]lu-cix[dot]lu